When you first arriving here – we have personal buggy to pick you up and bring you in the natural of Sanctuary along the way you will pass Organic Fruit Farm and a Herd of Horses (with Chinese belief – 8 horses) are running forward with endeavor, nimbleness into our sanctuary.

Next at the circus there is one elegant with happiness feeling, looking out the sky his name is Plai Kwankhao, male elephant sculpture that is standing tall to welcome us all.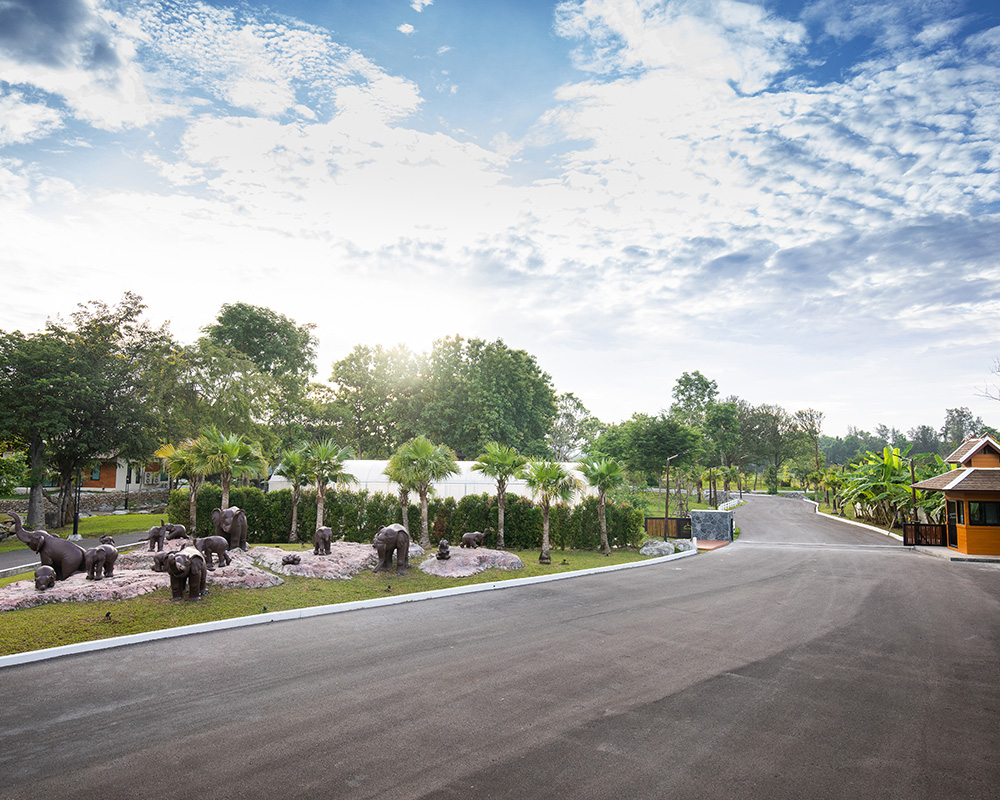 Before entering to Sanctuary – in front there is a small barrier built across a stream with overflowing of water – we call "Weir" that is connection our two large water-well and this is the starting of experience.

At the center of Sanctuary – we have main Lobby, inspiring from ขันโตก; kind of wooden utensil in northern Thailand while the arching is inspiring from Benjarong cover, having a great big spire up on the top and it will illuminate in the night.
RESORT ACTIVITIES (fee applied)
Within resort area, there is an ancient Lanna temple that has been established over a centuries name "Wat Thammachai", surrounding with White Plumeria (Flower of Thailand). Stunning with the enchanted of the great brown wall of pagoda – this is a place that we do rest our mind and soul.

Organic Planthouse with cooking class; Here we have 5 planthouses to grow organic both local-grow vegetables and seasonal vegetable to feed inside with the belief that "Eat Well Live Well", in here we open for guest to do a planthouse tour and get experience from growing vegetable as a farmer until pick them up being as a cooking ingredient for you to make a dish.

Finest Orchards; there is a pathway to allow all guest to walkthrough with wooden label and QR Code in order to get to know each fruit trees. If the perfect time, the fruit begins to ripen we're allow to pick them by our hand and try it at the moment to get the freshness.
We also have naturally raised Poultry; ducks, gooses, chickens to complete the ecosystem and you can close with them by feeding and pick an egg.

Within our resort area, you will be truly enjoyed with lots of cultural experience such as umbrella painting, garland class, give alms to a Buddhist monk etc. Plus, with numerous of activities such as Rice Cultivation, Fruit Harvesting, Cooking class from your own picking organic ingredients and many more.

Last but not least, please block a space in your phone since we have lots of instagrammable corner and an enchanted view that can't be missed!
Leisure and Resort's Activities